Come back from Japan after a one-week exchange program between HUST and TUMSAT (Tokyo University of Marine Science and Technology), SBFT's students shared their feeling and personal experiences.
Vũ Hà Chi 
Participating in the student exchange program this December between the School of Biotechnology and Food Technology of Hanoi University of Science and Technology and Tokyo University of Marine Science and Technology was my pleasure, and this became one of my life-changing experiences.
Firstly, this experience helped me be exposed to a new culture and explore the beauty of Japan. I had a chance to visit Tokyo and Kyoto, two famous cities having opposite vibes. While Tokyo has a hustling and bustling atmosphere with a myriad of high-rise buildings in metropolitan areas and high rail transport density which was considered a culture shock when I had just set foot in Japan, Kyoto is more peaceful and ancient with the historic and well-preserved temples and pagodas. These destinations reflect the creativity of local people from which I can learn a lot. That is not to mention the remarkably diverse cuisine in Japan, an integral part of this trip, we had an interesting experience when trying so many famous foods like sushi, soba, ramen, yakitori, okonomiyaki… and each of them had a specifically different flavor.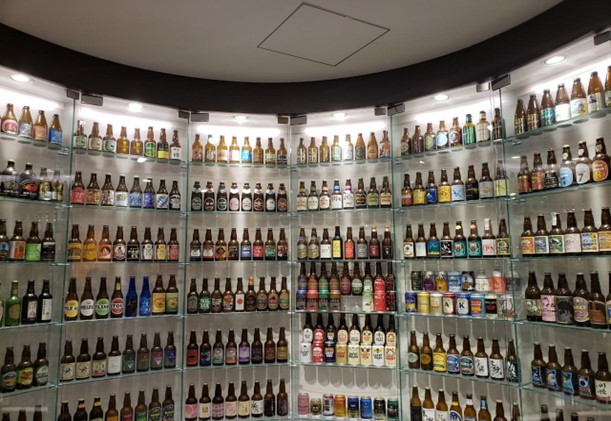 Besides cultural experiences in this stunning and thriving country, I was also into hands-on learning activities about the Japanese food industry and cuisines such as visiting factories, and laboratories at TUMSAT, listening to research reports from postgraduates and participating in mochi and kamaboko workshops. Especially, the Kizakura factory visit in Kyoto impressed me the most. In other words, after the study tour, I gained more knowledge about beer and sake manufacture and understood their traditional values in Japanese life to a certain extent. One of the things that made this trip so memorable was the difficulties we encountered and overcame, including the language barrier, catching the trains on time challenges, direction issues and delayed flight. However, both good and bad experiences in this program helped me become more independent and disciplined.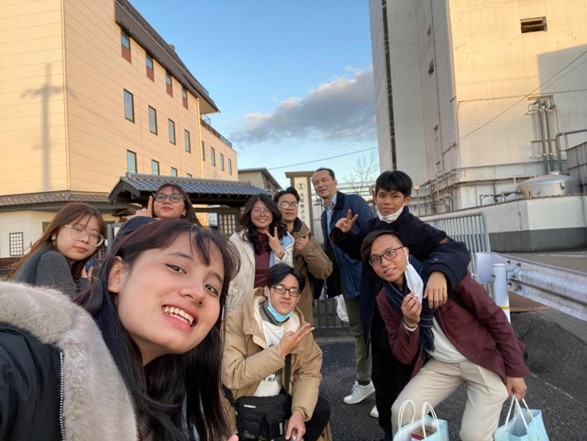 Finally, I would like to express my sincerest thanks to the Leading committee of SBFT and TUMSAT, especially Assoc. Prof. Luong Hong Nga, Dr. Nguyen Tien Cuong and Prof. Toshiaki Komatsu gave me this opportunity and enthusiastically supported us during 7 days of this meaningful trip.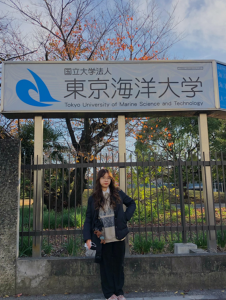 Nguyễn Diệp Linh
So the study exchange trip in Japan has just ended. I had a smooth and wonderful trip, had the opportunity to meet Prof. Toshi, friends, and the extremely friendly and caring people in Japan.
Going to study exchange is a dream as well as a goal for many young people today. Not only is studying in an advanced environment, but this is also an opportunity to reach out to the world, broaden my horizons and improve my language skills and soft skills. I feel very lucky to be one of the few who had the opportunity to participate in the exchange program at Tokyo University of Marine Science and Technology in Tokyo.
I find myself becoming more agile, learning, and working more intensely when in a professional environment like this. Although at first, me and my friends were not able to catch up with the way of studying and working in Japan, after only 2 days we quickly adapted to the new environment. I was allowed to visit Tumsat and participated in a research introduction lesson with students at the university. I had the opportunity to interact with them and everyone was very friendly and enthusiastic.
Although 7 days were short, it was a meaningful experience and I had unforgettable memories. I still hear people say that Japan is a beautiful country, and its people live very civilized and conscious lives. But when you experience it yourself and witness it, you will realize that the ear is not as good as the eye. The scenery and architecture here are very beautiful, just take out the camera to have a lovely photo. Strictly speaking, no camera can fully describe the beauty of this place. Everything in Japan is so beautiful and clean. The air is fresh and very clean. We were lucky to come to Japan on beautiful weather, although it was a bit cold, the sun was very beautiful.
I was also fortunate to enjoy many Japanese dishes such as sushi, takoyaki, okonomiyaki… and was led to visit many places such as Fushimi Inari Taisha, Kiyomizu Dera and International Kyoto Manga Museum.
Like other exchange students, I also faced many difficulties such as language barriers, transportation, unappetizing food and especially how to use coins. In Japan, cash does not have many denominations and coins are used quite a lot. I had to learn how to spend coins to avoid having to hold coins that are low in value, heavy, and not very practical.
I would like to express my sincere thanks to School of Biology and Food Technology with the teachers who have facilitated and helped us to come to Japan and have unforgettable experiences. I feel that I am more mature and learned a lot after the trip. The words of encouragement from the teachers gave us more motivation to study hard. I would also like to thank Prof.Toshi for his time, guidance and help during our 7 days in Japan.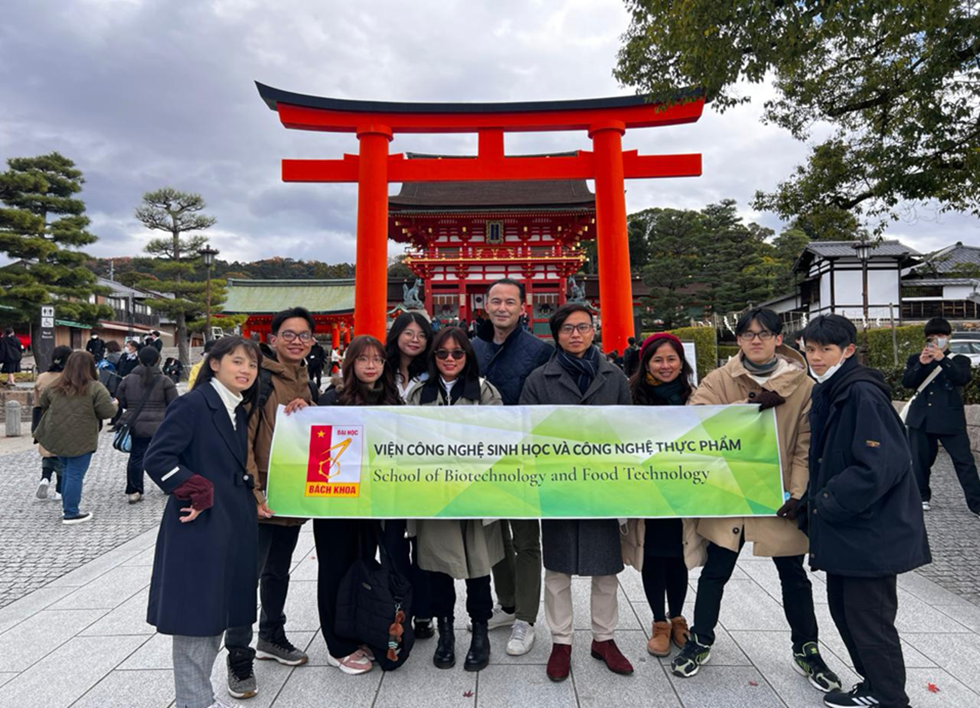 Vũ Ngọc Mai
This December, thanks to the cooperation between Hanoi University of Science and Technology (HUST) and Tokyo University of Marine Science and Technology (TUMSAT), I with 5 other friends had the opportunity to participate in a short-term study exchange trip to Japan. After the trip, I had a lot of new and interesting experiences, and will probably be one of the most beautiful memories that I will never forget.
First, thanks to this trip, I had the opportunity to be exposed to knowledge and practical learning experiences imbued with Japanese characteristics. We learned to make traditional Japanese foods like Chikuwa and Kamaboko. And one of the most enjoyable experiences for me was a tour of a sake brewery and craft beer called Fushimi-Kura Brewery in Kyoto. At the factory, we learned how a bottle of sake is made and how different and special it is from traditional Vietnamese wines and knew three key aspects in the sake-brewing process: Koji, Moto, and Tsukuri. Besides, we also had a chance to visit the exhibition area of craft beer and sake products, and finally had a taste of sake. It was an interesting experience that I remember most during the trip.
Besides the knowledge related to the field of study, I also gained a lot of experiences with Japanese culture and life. First, about the landscape, each place that we go through has its own unique characteristics that I rarely experience. If in Tokyo, the system of houses and train stations is a bit modern and quite complicated for someone who has never been on a train like me, in Kyoto there is something very classic, worthy of the ancient capital's reputation. I was also able to visit quite famous local places such as Shibuya Street, Shinjuku, Akihabara (Tokyo), Fushimi Inari Shrine, and Kiyomizu temple (Kyoto). Secondly, in terms of life, in my opinion, Japan is such a "rush" country, everything happens so fast that on the first day I was a little shocked because I had to move and operate so fast compared to my own. while in Vietnam. In 7 days, we also missed a train and as a result, everything that happened that day was rushed and rushed along. But optimistically, after the trip, I found I and everyone in the group had some improvement in terms of physical strength and became stronger and more active. In terms of food, I was a bit disappointed because it wasn't as delicious. However, the food that I tried in Japan will always be remembered by me because it was also part of this experience trip and I still cherish that very much.
And finally, I would like to express my sincere thanks to Assoc. Prof. Luong Hong Nga, and Dr. Nguyen Tien Cuong – the 2 people who cared for us during the trip. Although there were many problems during the trip, they were very professional and attentive when taking care of all the group members. I also can't help but mention Prof. Toshiaki Komatsu –  who helped us a lot, the one who suggested the schedule, and the most enthusiastic guide I have ever met.
In conclusion, I really thank Hanoi University of Science and Technology, School of Food Technology and Biotechnology, and the staff who helped us make this trip. This will forever be a memory I will never forget when studying in class Food Engineering 01 – K64 at the School of Biotechnology and Food Technology!!!
Nguyễn Lê Anh Thư
I'm so glad that I had the opportunity to study as an exchange student in Tokyo University of Marine Science and Technology (TUMSAT), Japan for one week. I felt I had a great time staying here, because I got great experiences studying in Japan, especially in TUMSAT. I could meet many new friends, learn many various experiences of life in several aspects in this country. This report is about my activities during study at TUMSAT.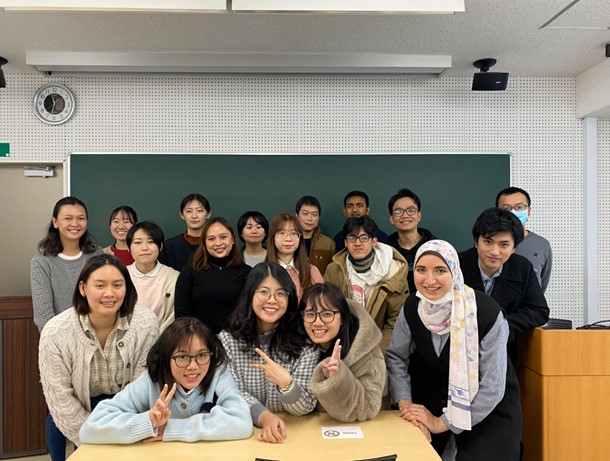 First, this exchange program gives me a lot of useful and valuable knowledge. At TUMSAT, I visited the facilities, laboratories; interacted with exchange students, ate lunch in the canteen and listened to and discussed research topics of postgraduate students. I understood what it would be like to be a TUMSAT international exchange student. Besides orientation activities at school, I also visit 2 traditional Japanese food factories: Sake brewery – craft beer and Kamaboko. I can easily access the factory process via Youtube, but seeing, being made and testing the products in the very place where it was born makes this experience for me deeper than ever. This program gave me more insight into current trends and recent technology in the Food Industry.
Having an opportunity to take part in an exchange program in Japan, not only to gain more knowledge but also to go on a new journey to experience Japanese culture. The first thing that catches my eye when I arrive in this country is the infrastructure: buildings, metro system, restaurants, shops, commercial centers,… If Tokyo is the administrative, cultural, financial, commercial, and educational center of Japan and the focus of an extensive urban complex, then Kyoto is the Japanese city that beautifully balances the preservation of its past with modern conveniences, a home with a peaceful soul and a contemporary sheen. In Tokyo we had a chance to visit and go shopping at some popular and crown districts, demonstrating youth culture such as: Akihabara, Shibuya, Shinjuku. In contrast, we have an extremely peaceful experience in Kyoto: try traditional food at Nishiki Market, visit temples: Fushimi Inari Taisha, Kiyomizu-Dera, and make Yatsuhashi – Kyoto traditional sweets. Referring to culture is unexceptional without mentioning food because food is culture. Due to the money that I was sponsored for this trip, I can only try signature dishes and daily dishes, Japanese dishes: Sushi, Ramen, Udon, Soba, Okonomiyaki,… Even though the food was so delicious, each dish helped me explore my appetite, I still expect to eat expensive food like Omakase, Kobe beef, Ruby Roman Grapes,… This makes me want to come back to this country one more time.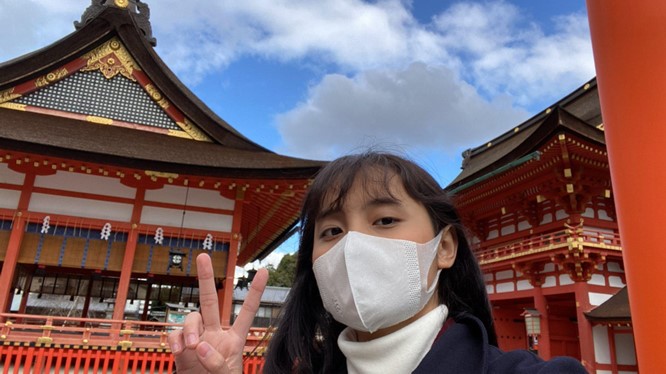 With global exposure, I've learned ways of the world that open my mind and make me capable of thinking out of the box. Mingling with people of different cultural communities gives me an international perspective that can add to my college application. It also helps me communicate with people across cultures confidently. I think this trip helps me to build up my confidence and develop cultural sensitivity. These are life skills that will help me fit into the global work environment with ease and make me feel confident when interacting with people from a different culture or country.
Having such great experiences is thanks to the merits of my "sensei": Prof. Toshiaki Komatsu,Assoc. Prof. Luong Hong Nga, and Dr. Nguyen Tien Cuong. I appreciate all their help throughout the 7-day exchange program trip. This trip has made a big difference in my education. I have learned a lot from this exchange program, and I am excited to continue learning under their guidance in the future.
Finally, I especially want to thank the Executive Board of School of Biology and Food Technology, Hanoi University of Science and Technology for organizing the exchange student program, giving valuable opportunities for Elitech students like us to study, experience and develop ourselves to become the best global citizens in the future.
Nguyễn Minh Quân
My 2022 end up with the chance to have a 1-week exchange with the Tokyo University of Marine Science and Technology (TUMSAT) in Japan. TUMSAT is a Japanese national university that is home to some of the latest research and innovation related to the maritime and fisheries industries. The university was established in 1875 as Tokyo University of Mercantile Marine with the help of a Japanese business magnate and founder of Mitsubishi Iwasaki Yatarō. In 2003, the university merged with the Tokyo University of Fisheries to exchange practices and bring its education to the next level. With campuses located in two of the most innovative municipalities in Tokyo, called Koto and Minato, the institute aims to provide extensive education related to oceans and lobbies for sustainable development.
 In general, the trip was 7 days long including 3 days in Kyoto and 4 days in Tokyo. There are 7 students in my group, and with enthusiasm and also take care of Assoc. Prof. Luong Hong Nga and Dr. Nguyen Tien Cuong, we had a memorable trip. During this trip, there are various things in this trip impressed me and enhanced my knowledge.
 Transportation: The first thing that made me astonished when I went to Japan is the transportation here, which is significantly different from Vietnam.  Japan has an efficient public transportation network, especially within metropolitan areas and between large cities. Japanese public transportation is characterized by its punctuality, its superb service, and the large crowds of people using it. Besides its convenience, we had a lot of experience with the train culture in Japan such as missing the train, going to the wrong line, and forgetting things in the train. After such experiences, we enhanced our discipline to be on time, and also, we were more careful when checking railway lines and luggage.
 Study experiences: As a Food Technology student, I am always curious about food processing and in this program, we have various activities to have insight into food technology in Japan such as: visiting Kizakura Fushimigura, Yatsuhashi Kakehashi Factory, and Suzushiro Kamaboko Factory. I fell in love with the sake products in Japan.
 We came to Kizakura Fushimigura, which is located in the Fushimi district on the 1st day in Kyoto. According to the introduction video and information, we have known the general procedure of sake-making. Sake is an alcoholic beverage made from rice through fermentation and filtration. For the fermentation of sake, rice koji, a kind of fungi grown on rice, is used. Sake has been made for over 1,000 years all over the Japanese islands. There are about 1,500 sake makers producing their unique sake with different regional tastes. Normally, There are four ingredients to make sake: rice, water, yeast, and koji.
Special rice, called "sakamai," is used for making sake and is prepared through rice polishing., up to 50-65% in order to purify the sake and enhance the transparency of the liquor
Water, which is the most important ingredient, differs within each region of Japan and its minerality influences the speed of fermentation. Fushimizu brings the Kizukara sake unique taste.
Yeast, which is the backbone of sake production is another ingredient that contributes to the aroma components of sake. Some strains of yeast are unique to the individual brewery or to the regions, and some are developed by the prefecture.
Koji is mold that is carefully distributed over the rice to convert the starches to sugar. All these factors shape the unique taste profiles of each sake.
 Sake is the pride of the Japanese, and they always show their love and dedication through the quality of this product. In Japan, making a bottle of Sake is like raising a child.
 Japanese people: Japanese are kind, hospitable, and warmhearted people, which is illustrated clearly through Toshi sensei – the TUMSAT professor take responsibility for our trip from the first day in Kyoto to the last day we were in Japan. He made a schedule for us to visit many famous destinations in Japan such as Fushimi Inari Taisha, Kyoto International Manga Museum, and Nishiki Food Market. Also, he always introduced us to restaurants and local cuisines that Japanese people normally go to. During our dinners and breakfasts, he shared a lot of stories and his experiences when he was young and had the desire to discover the world. I really appreciate these moral lessons and the advice he gave me.
 Positivity: During this trip, although my team suffered from tremendous, unexpected problems, we still keep a positive mindset to tackle these issues. Every day there was a "family meeting" in the evening, during which we discussed our day and the lessons that we could learn from these experiences. Until the last day, when we were delayed and had to stay in Narita airport for 1 night, our team was still optimistic. We decided to go around the airport and bought some food to have dinner together, then we watched the World Cup final match before going to sleep. With professor Nga, I was impressed longer she wrote emails to deal with VietJet Airline, and at the same time, she contacted alumni students and made a detailed plan for us in case we have to stay in Japan longer.
In conclusion
 I really appreciate this exchange opportunity that the School of Biology and Food Technology (SBFT) gave me, therefore I would like to say many thanks to the Leading committee of SBFT and TUMSAT, especially Assoc. Prof. Luong Hong Nga, Dr. Nguyen Tien Cuong, and Prof. Toshiaki Komatsu. In my opinion, this is a meaningful activity for Elitech students to experience, and enhance their soft skills, which makes them confident in the International environment in the future. I think this exchange program will be a unique point for the Elitech program if it can be maintained annually.
Trần Đăng Quang
Returning from this study exchange program at Tokyo University of Marine Science and Technology (TUMSAT) for 7 days, we – The students of Hanoi University of Science and Technology (HUST) have had a wonderful trip with a lot of new exciting experiences. And definitely this trip was one of our most memorable experiences.
 I was  really amazed by how Japan's culture and customs is pretty much opposite to Vietnam. I faced a lot of culture shock experiences in terms of transportation, traffic, and language barrier. The train system in Japan is very efficient as it goes everywhere in the city and how fast it travels. On the day we went to Kyoto, we were only a few seconds away from catching the train, which then resulted in an hour delay in our schedule. From there I learned about the discipline of being on time and how Japanese people are always on time. But on the other hand, I found out that most Japanese locals cannot speak or understand English which made our information gathering very difficult when traveling or shopping on our own.
 Beside from the culture differences, we had the opportunity to try many different Japanese cuisine and visiting factories, where we learned about the beer and sake processing and their values in Japanese tradition. We were also able to visit TUMSAT, their laboratory and learn about the research works of the TUMSAT students.   Furthermore, we were able to witness the modern, crowded, colorful and busy places in Tokyo such as Shibuya, Shinjuku, and Akihabara. And the ancient and majestic of Kyoto in places such as Fushimi Inari Shrine and Kiyomizu temple.
 I have always had a great interest in traveling overseas, to be exposed to a new culture, meeting the local people, learning about their customs and culture and I had the opportunity to fulfill my dream thanks to this program. I would like to send my sincerest gratitude and appreciation to the Leading committee of SBFT and TUMSAT for this opportunity, especially Assoc. Prof. Luong Hong Nga, Dr. Nguyen Tien Cuong, and Prof. Toshiaki Komatsu for supporting us and creating such memorable memories throughout the whole trip.